Continuing Education Credits (CEUs)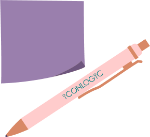 Continuing Education Credits (CEUs) shall be awarded at a rate of .6 CEU for each full day of classroom instruction (onsite or virtual) provided that the course is led by a Qualified Continuing Education Provider (QCEP).
IconLogic, through the International Council for Certified Online Training Professionals, defines a QCEP as someone who meets or exceeds the following:
Certified Online Training Professional (COTP) through ICCOTP
Certified Technical Trainer (through CompTIA), or both
Minimum of 500 hours teaching onsite or live, online classes
Note: While IconLogic authorizes CEUs once the appropriate number of hours of instruction have been completed, IconLogic cannot guarantee the CEU credits will be accepted by any organization or association. If you are planning to attend a course specifically to meet CEU requirements, you should first check with the appropriate department, agency, association, or educational institution (and follow their guidelines) before applying any CEUs from any organization toward your continuing education. For your reporting/documentation purposes, the certificate of completion you receive from the CEU provider should clearly state the CEUs awarded. In addition, the training institution should be able to provide you with a full course outline if necessary.