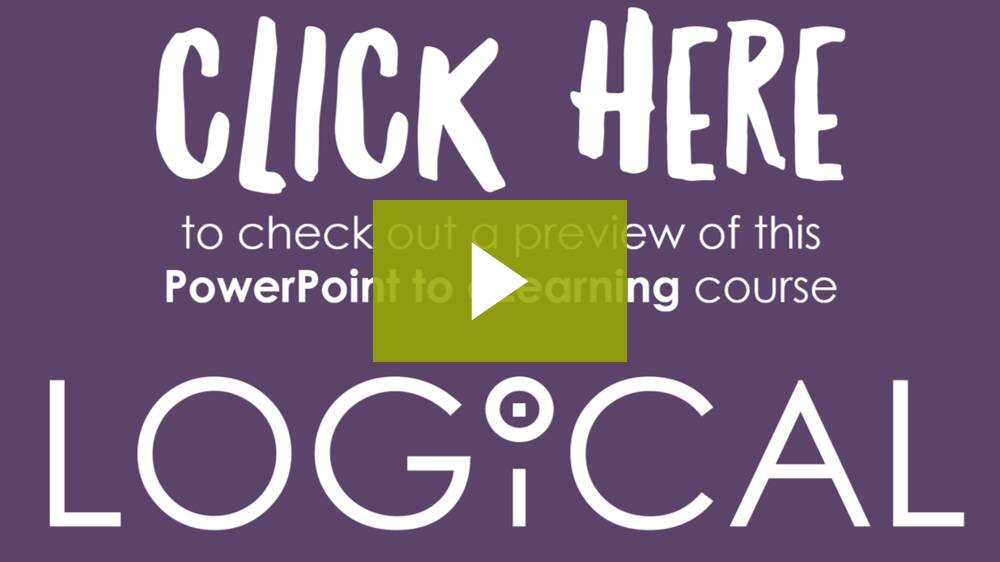 If you intend to create an eLearning course, it's a good bet that you're going to start the development process in Microsoft PowerPoint. However, PowerPoint is missing some key eLearning features to allow you to output finished eLearning content. For instance, PowerPoint cannot create software simulations or video demos. There is no way to add quizzes or learner interactions in PowerPoint. And, because there are no reporting features or provisions for SCORM or AICC, you cannot effectively integrate PowerPoint presentations with Learning Management Systems.
Instead of relying on PowerPoint alone for your eLearning content, you'll need to take your finished presentations into an eLearning development tool such as Adobe Captivate, Articulate Storyline, or TechSmith Camtasia. While in those tools, you'll add the necessary eLearning features and then publish your content. Alternately, you can rely on Presenter, a PowerPoint plug-in that works together with PowerPoint to accomplish many of the things you can do in Captivate, Camtasia, and Storyline.
But what happens to your beloved PowerPoint slides when they get incorporated into today's eLearning tools? Do the animations still work? How about the hyperlinks? Does the voiceover audio you added to your PowerPoint slides still work when the slides are imported into your eLearning tool? Do the fonts look okay? If you or the subject matter expert updates the PowerPoint presentation outside of the eLearning tool, does the eLearning version update or do you have to re-import?
Attend this action-packed session and learn how PowerPoint works with the top eLearning tools of the day. You'll learn the strengths and weaknesses of each eLearning tool via live demonstrations (there is no pre-recorded content). This is live, online training at its very best!
You'll learn how to integrate PowerPoint with:
Adobe Captivate
Articulate Storyline
TechSmith Camtasia
Presenter
Where is this class held?
This is a live, online class led by a field expert; and just like an in-person class, it is fully interactive and engaging. The difference between an online and onsite class? No travel! You can participate from anywhere in the world with an Internet connection. Many of our students choose to stay home from work on these training days, some never even changing out of their slippers! Where applicable, students are able to speak with and hear from the instructor and other participants throughout the course as they work in real-time to complete activities.
Need something a little more personal?
We understand your team might have specific training needs and we would love to work with you. We offer both online and on-site instructor-led, fully customizable courses tailored to your training needs.
Email us so we can discuss your needs and set up your custom training »
Topics covered include, but not limited to:
During this 60-minute session, you'll learn how PowerPoint integrates with:
Adobe Captivate

You'll learn about the import settings and be able to select the workflow that's best for you. During the demonstration, you'll learn how linking to a PowerPoint presentation makes updating original content and synchronizing with PowerPoint as easy as a single click.
Articulate Storyline

Importing PowerPoint is a snap in Storyline. And you can easily update the slide content without ever leaving Storyline. Is this a better workflow than Captivate's "linking" technology? You'll see how it works and decide for yourself.
Presenter

Presenter is simply a plug-in for PowerPoint that gives PowerPoint eLearning super powers. Using Presenter (which is available from Adobe, Articulate, and iSpring), you can quickly turn PowerPoint presentations into eLearning without leaving PowerPoint at all.
TechSmith Camtasia

You'll rehearse your PowerPoint presentation and use the Camtasia Recorder to make a video of the action. The resulting video can then be edited in the Camtasia Editor and published as a video or interactive eLearning.
About Your Instructor
Kevin Siegel is the founder and president of IconLogic, Inc. He has written hundreds of step-by-step computer training books on applications such as Adobe Captivate, Articulate Storyline, Adobe RoboHelp, Adobe Presenter, Adobe Technical Communication Suite, Adobe Dreamweaver, Adobe InDesign, Microsoft Office, Microsoft PowerPoint, QuarkXPress, and TechSmith Camtasia.
Kevin spent five years in the U.S. Coast Guard as an award-winning photojournalist and has three decades experience as a print publisher, technical writer, instructional designer, and eLearning developer. He is a certified technical trainer, a veteran classroom instructor, and a frequent speaker at trade shows and conventions.
Kevin holds multiple certifications from companies such as Adobe, CompTIA, and the International Council for Certified Online Training Professionals (ICCOTP) as a Certified Online Training Professional (COTP).
Kevin is HILARIOUS. Thank you for keeping us engaged. (I'm convinced that humor enhances learning.)
Lori Akerley